Court Watch
Under the Wisconsin Court Watch initiative, Foundation lawyers monitor Wisconsin Court of Appeals and Supreme Court decisions. Summaries of cases of interest to the Foundation are posted on the Foundation's blog.
Cases of Interest
Cases of particular relevance to the Foundation's mission are tracked by foundation staff on the Foundation's blog. The Foundation does not take action in all cases of interest.
Papa v. DHS
In Papa and PHP v. DHS, the Wisconsin District II Court of Appeals is reviewing whether the Wisconsin Department of Health Services (DHS) is required to promulgate as administrative rules certain bill auditing practices and policies regarding recoupment of paid reimbursements for services rendered by independent Medicaid health care providers providing in-home health services to children and adults with complex health care needs.

Under DHS practice and policy, referred to as a "Perfection Rule", independent nurses who do not meet certain billing and record keeping requirements, contained in the Medicaid Provider Handbook Topic #66, when providing services to home health patients may have those services determined as "non-covered" and subject to recoupment of funds paid to them by DHS, sometimes years after the services were provided.

Plaintiffs Papa and PHP argue first that the auditing and recoupment policy and practices are inconsistent with and exceed the scope of DHS's statutory authority to demand the return of payments from Medicaid providers. Further, plaintiffs allege that even if the Perfection Rule does not exceed DHS's statutory authority, DHS has not promulgated the policy as an administrative rule.
Seifert ex rel. Scoptur v. Balink
The issue in this case concerns the admission of expert testimony about medical practices and testing procedures during pregnancy and child birth. This medical malpractice case was brought on behalf of Breylon Seifert, who was injured during the birthing process, by his guardian ad litem and parents against their doctor, Dr. Kay Balink. Seifert retained a doctor to act as an expert witness to prove medical malpractice. The trial court admitted the doctor's testimony under the Daubert test adopted by the Wisconsin Legislature in 2011 Act 2, specifically under Wis. Stat. § 907.02(1). The Daubert test empowers judges to act as "gatekeepers" and exclude unreliable unscientific testimony passed off as "expert testimony." Seifert ultimately won at trial. On appeal Dr. Balink argued Seifert's expert's testimony was not sufficiently reliable because the expert (1) based his testimony solely on his personal preferences for practicing medicine, and (2) the expert did not support his opinion with reference to medical literature (Dr. Balink made other arguments on appeal, but they are not relevant to the Daubert factors.). Dr. Balink further contended that the expert's personal experience contradicts pertinent medical literature. The Fourth District Court of Appeals affirmed the trial court's decision holding the circuit court did not abuse its discretion when admitting expert testimony based solely on personal experience. Dr. Balink appealed to the Wisconsin Supreme Court where the case is currently being briefed. Federal courts disagree on whether personal experience alone is enough to satisfy the Daubert test.
Intervenor Briefs
Foundation Lawyers also find cases of merit for the Foundation to intervene on behalf of Wisconsin businesses and organizations in order to further the Foundation's goals of regulatory reform, protecting private property, and advancing economic growth and increasing job opportunities in the upper Midwest. Briefs are prepared by Foundation lawyers or outside counsel under our supervision.
Currently the Foundation is involved in an effort to reign in the Wisconsin Department of Natural Resources's (DNR) unlawful use of conditions in high capacity well permit approvals which stifle agriculture and manufacturing growth in the state.
Clean Wisconsin litigation – On Jan. 6, eight business associations asked a Dane County court for permission to intervene in litigation challenging Department of Natural Resources' (DNR) high capacity well permit program. Although the litigation is aimed at individual permit holders, if the relief requested by Clean Wisconsin is granted, the court decision could threaten the validity of hundreds of high capacity well permits issued under new DNR policies.
New Chester Dairy v. DNR – New Chester Dairy sought DNR approval to construct two high capacity wells for its dairy operation in the Town of New Chester. DNR conditioned its approval on New Chester Dairy installing groundwater monitoring wells, collecting data, and submitting that data to the agency. However, nothing under the high capacity well statutes, Wis. Stat. §§ 281.34 and .35, provides DNR the authority to impose such conditions. DNR claims that it has broad authority to impose the conditions under its general duties provisions in Wis. Stat. §§ 281.11 and .12. GLLF argues that Gov. Scott Walker's regulatory reform law (2011 Wis. Act 21) unambiguously precludes DNR from using these broad statements of policy, often found in the statutes, as authority to regulate. Instead, agencies must look to enabling statutes, such as those provisions enacted to regulate high capacity wells, for explicit grants of authority over the activities being targeted by the agencies. Judge McGinnis of the Outagamie County Circuit Court has ruled in favor of the petitioners and intervenors holding that DNR did not have authority to condition the approval of New Chester Dairy's permit on installing monitoring wells.
Amicus Briefs
In a related effort, Foundation lawyers make recommendations on whether to draft and file amicus curiae briefs in important cases deciding Wisconsin law. The goal is to assure the most meaningful cases are identified and acted upon, rather than rely upon brief opportunities that come to us from the parties to the litigation. Briefs are prepared by Foundation lawyers or outside counsel under our supervision.
To date, the Foundation has filed amicus briefs in:
Judicial Evaluations
In 2010, Foundation attorneys conducted an analysis of the Wisconsin Supreme Court justices based on the Court Watch summaries from the past year and staff knowledge of important cases from earlier in the court's term before the Foundation was formed.
With Foundation permission, the Wisconsin Civil Justice Council then took our analysis and published The 2011 Guide to the Wisconsin Supreme Court. The 2011 Guide highlighted the most important cases decided over the past two terms (from 2008 through 2010), described the Supreme Court's decision in each selected case, WCJC's position, and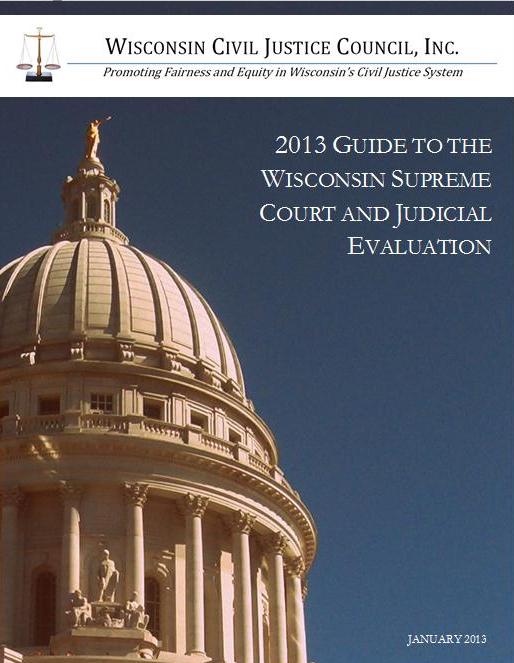 how each justice decided the case.
The 2011 Guide was well received by the public, and was used by both candidates in the 2011 Wisconsin Supreme Court election, as well as interest groups, to inform voters of the candidates' records.
The success of the 2011 Guide prompted the Foundation to replicate its effort in 2013 for the 2010-2012 court terms. The Wisconsin Civil Justice Council's publication of the 2013 Guide to the Wisconsin Supreme Court and Judicial Evaluation was highly anticipated, and the Guide was widely read.